Shuttering Magnet, 900 KG Precast Concrete Magnets for Sandwich Panel Wall Panel Formwork System
Product Detail
Product Tags
Product Description
This is our new design shuttering magnets,the holding force is 900kgs.
SAIXIN magnet box is the new magnetic fixture designed for fixing precast concrete formwork, compared to the traditional way of bolted fixing, magnet box can be disassembled quickly with flexible operation, strong holding force, and consequently improve the work efficiency, reduce man power, low down the wastage of the steel platform, now the magnet box is used worldly in PC industry.
As for the magnet box is used for precast concrete production line, it requires the box surface has high grade rust resistant capability, so that we are using the stainless steel for the cover box. 
compared with the blackening surface treatment,the stainless steel box is more beauty.,and easy to clean.
also with the spray yellow paint, the manufacturing process  is more easier.
so you can choose the magnet box surface treatment as per your quirement.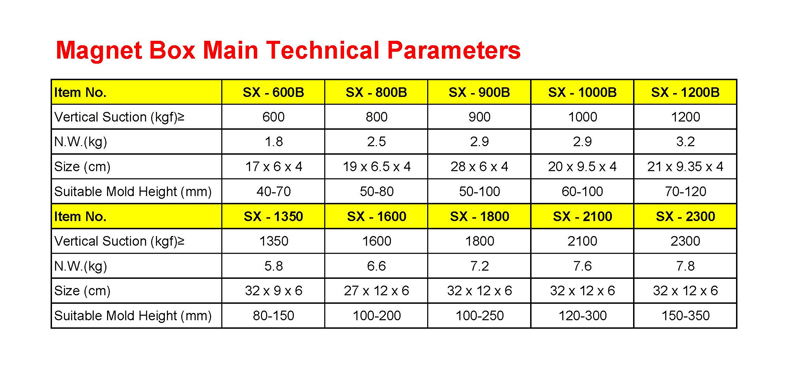 Instruction
There is an ON/OFF button on the top of the shuttering magnets. At work state, press the button, magnet box fixed the shuttering on the platform firmly, Pull up the button with lever, magnet box is at closed state and can be moved.
(1) The suction of magnet box is based on thickness and smooth degree of the platform, the thicker and smoother the better. And lateral shear force depends on the suction of magnet box and the friction coefficient of the touching surface.
(2)Two screws on two sides of the magnet box can be connected with different adapter, fix different formworks, such as steel angle, steel channel, etc.
(3)SAIXIN® magnet box is made of permanent neodymium magnets, In theory, if the MAX working temperature is below 80℃ and the magnet is not damaged or corroded, the suction will be lasted forever.
Maintenance And Safety Guidelines
(1)In order to avoid the magnet box damaging, do not crash and use hard tools to knock it. Please knock with rubber hammer if must use tools.
(2) Magnet box touching surface should be kept clean and smooth, avoid the scrap iron or concrete grout going inside the box, otherwise the button flexible degree will be affected and the magnet will be slanted, caused the magnet can not be fixed on the platform closely and the suction weakened.
(3)As suction of magnet box is very strong, please avoid closing it to precision instruments,electronic instruments and other iron material. Once they absorb together, it is difficult to separate. Suggest making special tool box to keep them.
(4)Magnet box touching surface should be kept clean and smooth always. And it should be oiled when storage. Max working and storage temperature should be below 80℃,and no corrosive medium around. Always check if the working surface fix the platform closely and the button flexible degree to ensure the normal use.
(5)After using , clean the magnet boxes, and put on stainless steel tool holder. Do not use iron tool holder.
---
---
Write your message here and send it to us